24 Sep

Ub Iwerks created this popular Minnie Mouse. Minnie Mouse is a funny animal cartoon character. She and Mickey Mouse were first drawn and created by Iwerks in 1928. And it was initially created to be the love interest of Mickey Mouse; concept art for Mickey showed a female mouse alongside him. The comic strip story "Mr. Slicker and the Egg Robbers" published in (September 22 – December 26, 1930) introduced her father Marcus Mouse and her unnamed mother, both farmers. The Mickey Mouse comic strip story named "The Gleam" (published January 19 – May 2, 1942) by Merrill De Maris. You can check the complete guide of Minnie Mouse Costume For Adults.
On the other side, the same story featured photographs of Minnie's uncle Milton Mouse with his family and her grandparents Marvel Mouse and Matilda Mouse. Her best-known relatives, however, remain her uncle Mortimer Mouse (Mortimer was the name of Mickey) and her twin nieces, Millie and Melody Mouse, though most often a single niece, Melody, appears. In many appearances, Minnie is presented as the girlfriend of Mickey Mouse, a close friend of Daisy Duck, and a friend to Clarabelle Cow. You can check Mickey Mouse Costume from our store.
We talk about the personality of Minnie Mouse, she is a cute, playful, musical and mischievous character. She often portrays an entertainer like a dancer or a musician whose affection Mickey is trying to win. Part of the comedy of these early shorts is the varying degree of success Mickey has in wooing Minnie. Unlike later cartoons after the redesign, Minnie often becomes a damsel in distress whom Mickey tries to rescue. She is also subject to a lot of slapstick and rubber hose animation gags. Over the course of the 1930s, Minnie's and Mickey's relationship solidified and they eventually became a steady couple.
Minnie Mouse Costume with Gadgets:
Minnie Mouse Red Skirt (Product Page)
Her main outfit consisted of a short flapper girl dress that often revealed her distinctive patched white dotted skirt which shows the shine of her cute personality and character also. Many adults want to wear this red dotted skirt especially in events, party, etc. It's white dotted make this attire more eye-pleasing. This skirt is available on many online stores like Amazon, eBay, etc.

Minnie Mouse Black Legging (Product Page)
She also wears the smart black legging which helps her to a trendy look when she walks or dances that's why she looks trendy. Minnie Mouse looks like a trendy dance girl and a mischievous character, she does all mischievous habit to impress the viewers and also her boyfriend Micky Mouse.

Her yellow stylish shoes are probably her most distinctive article of clothing. For comedic effect, she wears oversized high heeled shoes that are too big for her feet. Her heels often slip out of her shoes, and she even loses her shoes completely in The Gallopin' Gaucho.
Minnie Mouse white dotted Bow Tie is a popular attire quite famous among musicians and other media industry professionals. Minnie's Bow Tie was specially designed for Minnie Mouse Costume For Adults. And it also has 5 inches in width. She looks more pretty with this Pre Tied Bow. Her boyfriend also impresses her decent and cute personality.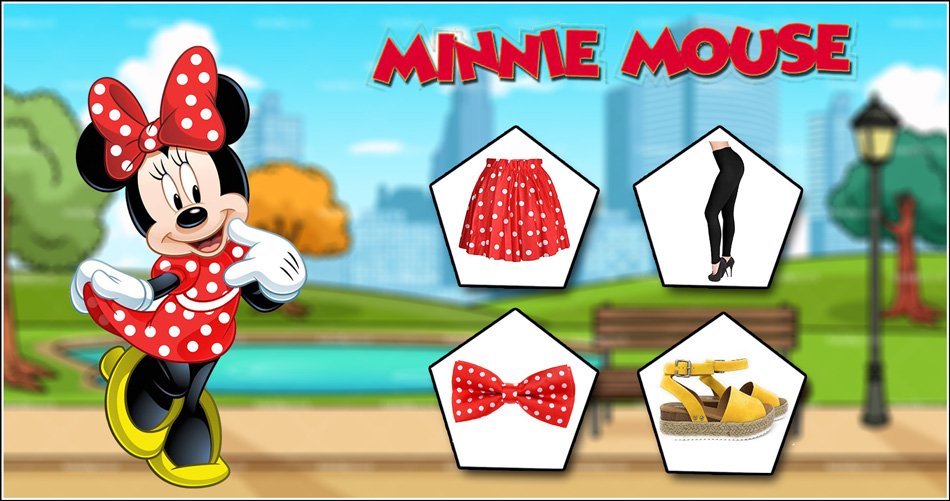 Minnie Mouse Costume Guide for females has been completed. We hope it will help you get an exact appearance like Minnie Mouse.