05 Jun
Ertugrul Ghazi is a Turkish historical fiction and adventure television series and is considered as one of the best series of its kind. In Turkish, the title of the series is Dirilis: Ertugrul. The Story of Ertugurl Ghazi is based on the history of the Muslim Oghuz Turks and takes place in the 13th century. It is mainly about the journey and life of Ertugrul Ghazi who was the father of Osman (Uthman) who founded the Ottoman Empire. This series was created by Mehmet Bozdag. It is surely the kind of series which can glue you to your television screen right from the first episode. It is an action-adventure serial full of sword fights. The star cast played a pivotal role in making this series or drama a success. For those who love the drama know the clothing are impressive.
Dirilis Ertugrul Cast And Their Role
Engin Altan Duzyatan (Ertugrul Ghazi)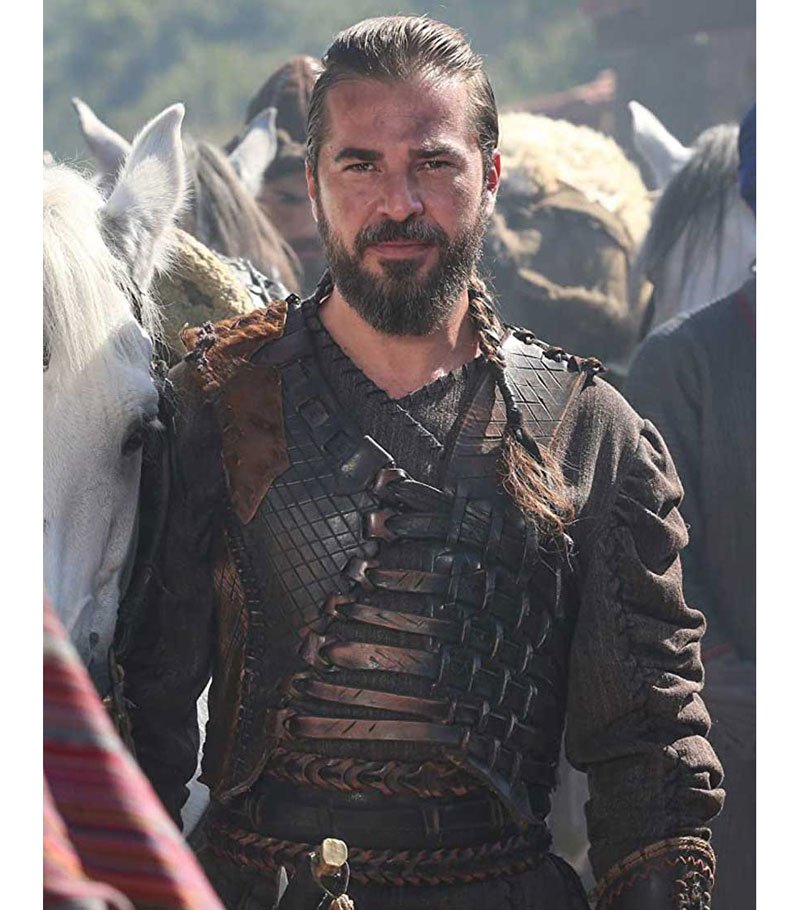 Engin Altan Duzyatan plays the role of Ertugrul Ghazi, the third son of Suleyman Shah and Hayme Hatun. He is also the father of Osman Gazi I, the founder of the Ottoman Empire. This is the central character in the Story of Erugrul Ghazi, one which is loved the most by the viewers.
In the series, his costume is looking amazing. Bursting with beautiful, warriors' embroidered armor his costume is reflective of his attitude. This majestic costume is designed intricately to give you a warrior-like look. The genuine leather texture on the attire costume making it very impressive. This Dirilis Ertugurl Costume is multilayer having a color combination of black and brown. The criss-cross pattern on his leather vest is looking very attractive and appealing to the eyes. This Ertugrual Ghazi genuine leather splendid costume is available on America Suits. Buy it online.
Serdar Gokhan (Suleyman Shah)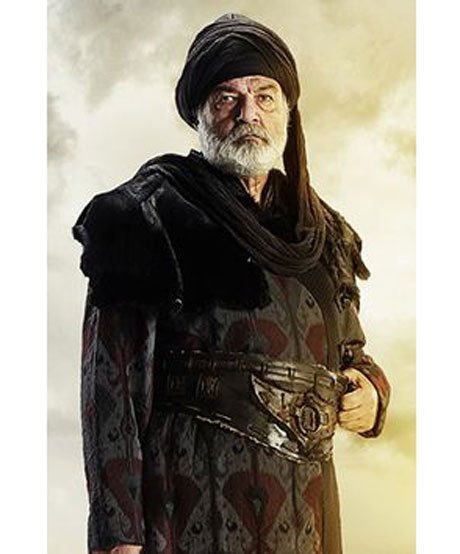 Serdar Gokhan plays the role of Suleyman Shah, another leading character in the story. He is the Leader of the Kayi tribe and father of Ertugrul and grandfather of Osman Gazi I, founder of the Ottoman Empire. He is a popular Turkish actor.
His role in the Story of Ertugrul Ghazi is arguably remembered for this iconic costume. His attire is amazing in this drama. This genuine leather vest filled with elegant pattern work. The stunning belt which clinches in the waist is also adding the beauty of this costume. Like any other traditional Turkish costume, this Suleyman Shah Dirilis Etugrul Coat is also multilayer but very appealing to the eyes. So this beautiful vest is available online on our e-commerce platform.
Hulya Korel Darcan (Hayma Hatun)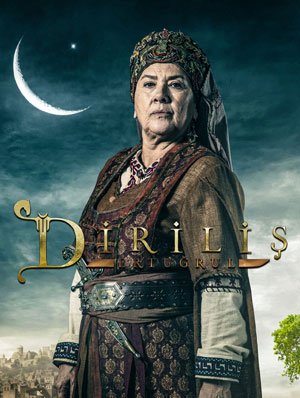 Hulya Korel Darian is playing the role of Mother of Ertugrul. She is seen as the wife of Suleyman Shah and grandmother of Osman Gazi I (who lead the foundation of the Ottoman Empire) in the series. Ertugrul Ghazi is one of her best works.
In this series, Hulya Korel Darcan truly transforms into a typical Turkish look. One of the typical features of Turkish clothing is multilayers. The entire attire is colorful, bright, and striking. Every piece of clothing is embroidered or embellished. Headscarves are also looking very attractive. This attire is giving her an elegant and sophisticated lady look. The beautiful handwoven work on this attire is done by expert designers. This costume is available online and if you are interested to buy it then visit our online store.
Kaan Tasaner (Gundogdu Bey)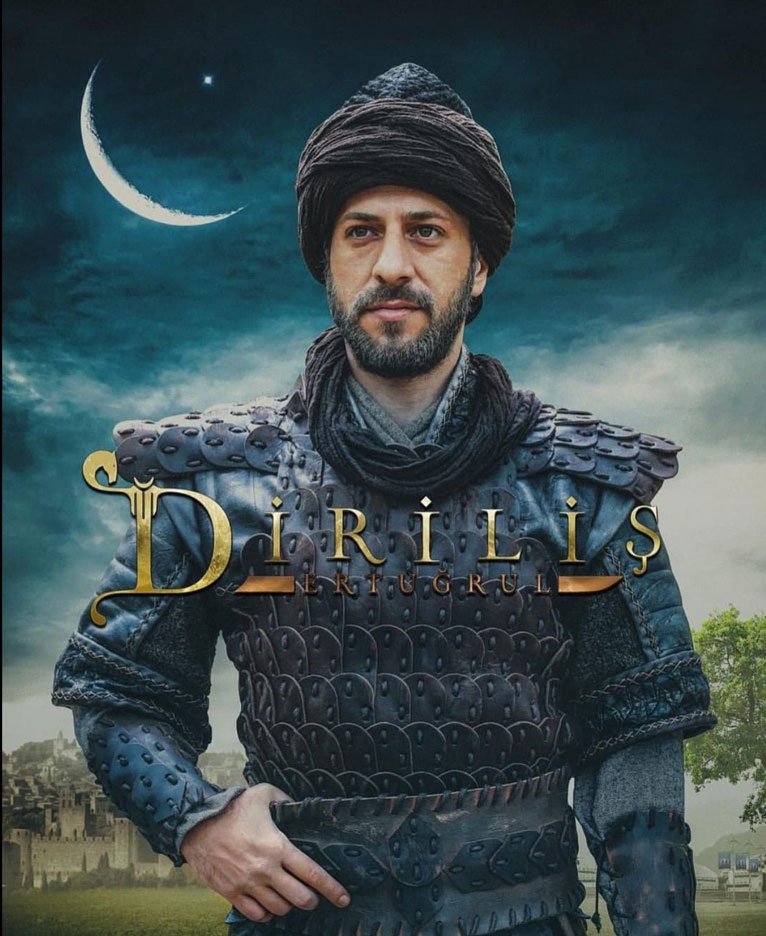 Kaan Tasanar plays the central role of Eldest son of Suleyman Shah and oldest brother of Ertugrul. He led the rest of the Kayi tribe who did not want to go with Ertuğrul to the Western borders. Ertugrul Ghazi is his best and latest work. Gundogdu Bey Dirilis Ertugrul Vest is also looking amazing in the entire series of Ertugrul. This beautiful multilayer costume is giving a glimpse of the traditional Turkish warrior. The black square pattern on his upper waist is looking amazing. This beautiful dress is giving him a majestic look. You'll also feel like the General himself wearing this jaw-dropping costume. So if you are interested to buy it, then buy it online from our store.
Nurettin Sonmez (Bamsi Beyrek)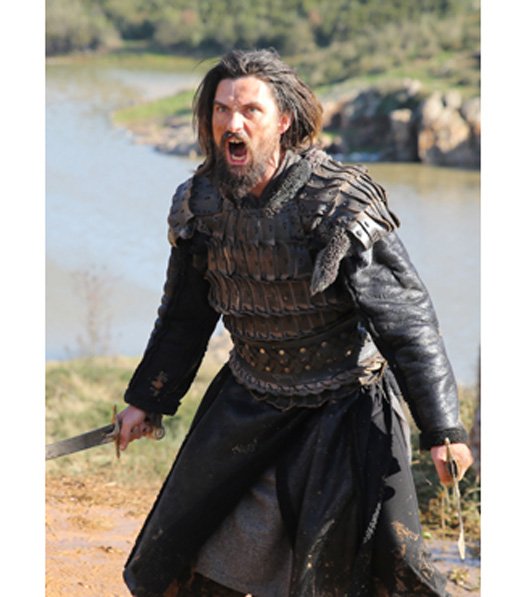 Bamsi Beyrek is one of the most likable characters in the series Ertugrul Ghazi played brilliantly by Nurettin Sonmez. He plays the most loyal Alp of Ertugrul and a very nice hearted fellow, also the chief guard of Suleyman Shah, Hayme Hatun, and Ertugrul Bey. He is one of the three Alps of Ertuğrul, together with Turgut Alp and Doğan Alp who were blood brothers with him.
In the series of Ertugrul Ghazi, the costume of this character is looking very attractive. Bamsi Beyrek Vest is made in a very unique manner especially the front of the vest which is a double-layered. The first layer is plain leather and the second layer consisting of a small square partition of leather with studs brings the real beauty out of this vest. The leather belt clinched on the waist is looking very attractive. This vest is mainly made with hand and then stitched to perfection. So buy online now and get the real stuff.
Esra Bilgic (Halima Sultan)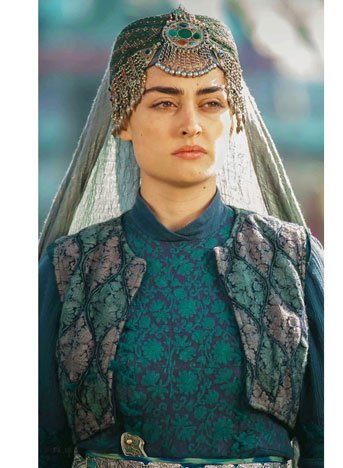 Esra Bilgic is a well-known Turkish actress and model who plays the role of Halime Sultan in the series. Halime Sultan is the Wife of Ertugrul and the mother of Gunduz Alp, Savci Bey, and Osman Ghazi I in the series. She is shown as a loyal wife in the series and she fought hard to protect her tribe.
Her attire in the series Ertugrul Ghazi marked the display of yet more fabulously meticulous designs, including Halime's stunning traditional Turkish caftan, and headdress, increasing the attractiveness of this character manifold. Her costume in this series adding to the drama and glamour of the storyline.
Cengiz Coskun (Turgut Alp)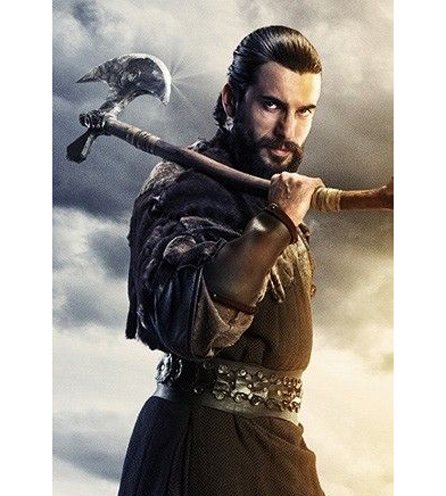 Cengiz Coskun is also the main character in the story. He is shown as One of the three Alps of Ertugrul, together with Bamsi Beyrek and Dogan Alp who were his blood brothers. His story and character are just as enticing as the other leading characters. In Turkish, "Alp" means "hero" and it has been used as a title and a surname. He's known for his unique fighting style and his rugged outlook in the show
His attire consists of short baggy trousers, a multi-layer jacket where the first layer is plain and the second layer is filled up with a square pattern with stud, a wide belt, socks, and boots. His jacket is bright and a combination of black and brown colors. This stunning dress has entirely stolen the show. This Cengiz Coskun Coat is also available online. So if you are interested in this amazing warrior like attire then visit us online on americasuits.com
Didem Balcın (Selcan Hatun)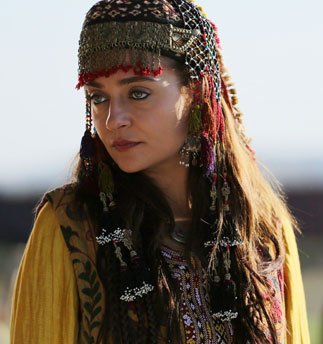 Didem Balcın plays the role of the adoptive daughter and later daughter-in-law of Hayme Hatun and Suleyman Shah. This is another central character in the Story of Ertugrul Ghazi. A character with a multifaceted personality, Selan Hatun goes from being evil to the journey of repentance after which she becomes super loyal to Ertuğrul.
Her attire also consists of a skirt or dress (below the knee length), a shirt, a jacket, a headdress or kerchief, socks, and shoes. The costume is very bright and colorful. The most common colors used are red and yellow. The clothing looks rich, embellished, and multilayer. This is also colorful attire along with a beautiful headdress is adding beauty to this costume. The entire costume is prepared by expert designers and involves delicate handwork. If you want this beautiful costume, it is available with us.
Burcu Kıratli (Gokche Hatun)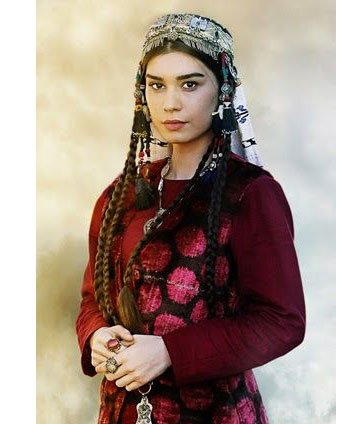 Burcu Kıratlı plays the role of the adoptive daughter of Hayme Hatun and Suleyman Shah. She is the Younger sister of Selcan Hatun. She is in love with Ertugrul but never gets to marry him. Her role is also positive throughout and the character itself is layered.
Her attire in the serial Ertugrul Ghazi marked the display of fabulously meticulous designs. Costume in the series is looking very enchanting. This attire is also showing the beautiful work of embroidery while the headdress is looking amazing. This is now available online. So you can buy it online at America suits.
Hande Subası (Aykuz Hatun)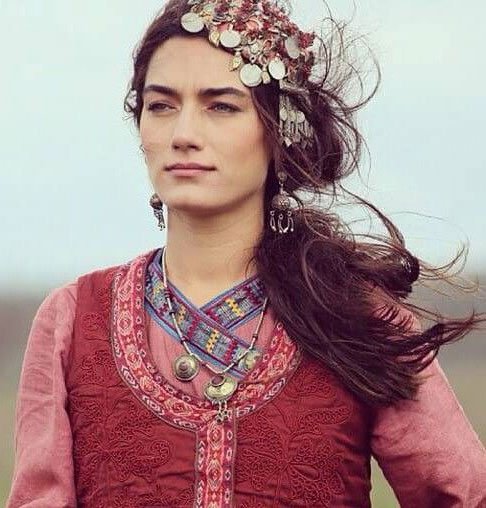 Hande Subası also plays an important role in the story. In the series, she is the childhood sweetheart and also the first wife of Turgut Alp. She is extremely good with a bow. A strong female character in the story which is liked by the viewers.
Kick-ass characters need kick-ass costumes. Her clothing also looks pretty simple, without much embellishment. Her vest, wide belt, a headscarf gives some Turkish flavor to the garment
Cavit Cetin Guner (Dogan Alp)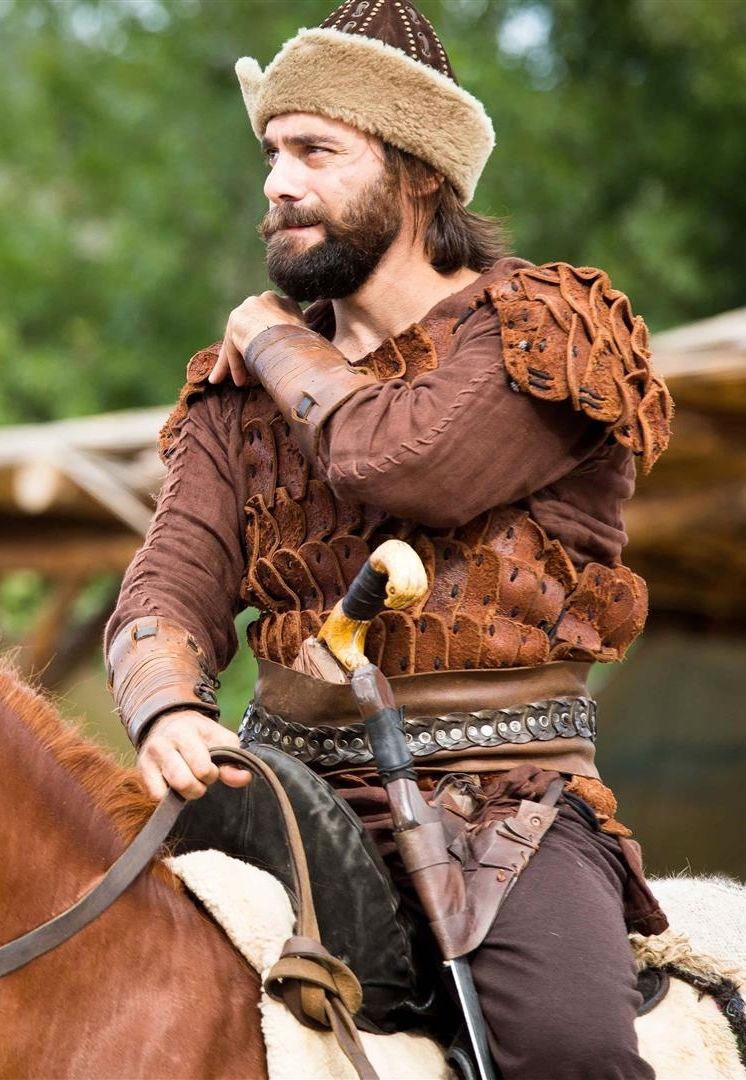 Another central character in the story, Cavit Cetin Guner plays the role of one of the three Alps of Ertugrul, together with Turgut Alp and Bamsi Beyrek who are blood brothers with him. The world which Ertugrul Ghazi creates on screen is fictional but it also looks realistic. Certainly, a lot of hard work must have gone into making these characters so that they look more convincing and realistic.
The costume of this character in the series of Ertugrul Ghazi is looking very cool and stylish. His Kayi Tribe hat is further increasing the overall beauty of the costume. This hat is made up of leather and faux fur and is very useful during outdoor activities in winters like hunting, hiking, camping etc. And this hat is also hand made and very comfortable to wear. The lightweight material used in the hat will not put any pressure on your head while keeping warm. This cap is made up of durable material. The Cavit Catin Guner Vest multilayer is looking very charming and showing the beautiful brown color square pattern. Belt clinching on his waist is also looking nice. And this costume is also available online. If you are interested, you should visit our online store to buy it.
Emre Uctepe (Osman Ghazi)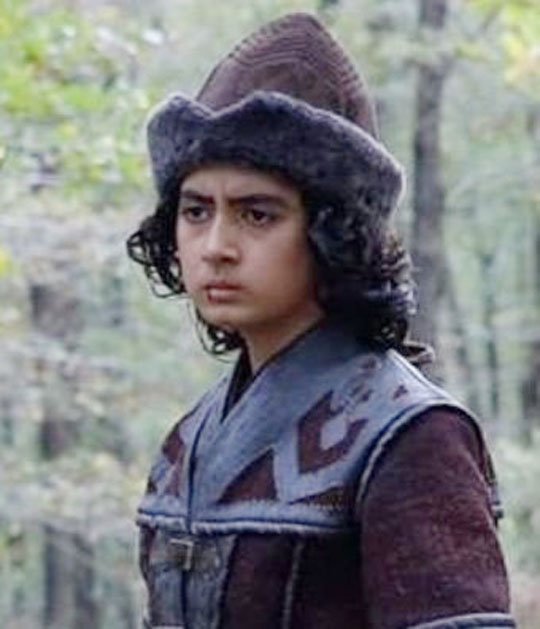 He played the role of the youngest son of Ertugrul Gazi and Halime Hatun. Brother of Gunduz Alp and Savcı Bey. Despite his young age, he is separated from his peers with his wit and courage. He is a dashing, assertive child. Osman's eye is constantly on the outside world. Ertugrul knows his character well. He eventually creates the Ottoman Empire. In the serial Ertugrul Gazi, his role was played by Emre Uctepe. The Coat of his character in the serial was giving him a dashing look. He also wore a traditional Turkish warrior multilayer vest and attractive Kayi tribes Turkish hat made up of fur. This Osman Ghazi Coat and Salvar were looking extremely enchanting in the whole series. Wide leather belt clinching on his waist also enhancing the beauty of this costume.
Yaman Tumen(Gunduz Alp): (In child role, " Season 3 & 4)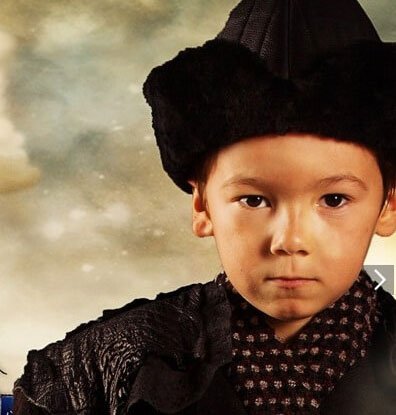 He was the oldest son of Ertugrul Gazi and Halime Hatun. He was the brother of Savcı Bey and Osman Gazi I, founder of the Ottoman Empire. No doubt that he was a headstrong and a great fighter.
In Ertugrul Ghazi (Season 3 and 4), he appeared as a child actor and this role was played by Yaman Tumen. The costume of this child actor in this serial was amazing. And you will also become a star of any event in this breathtaking, iconic costume. The materials and construction are very similar to the screen used costumes. His attire includes leather covered vest embellished with studs and beautiful Turkish leather hat made up of fine quality fur. This costume is destined to become a prized possession. And it also makes a big impression whenever being worn at your event!
Arif Diren (Gunduz Alp)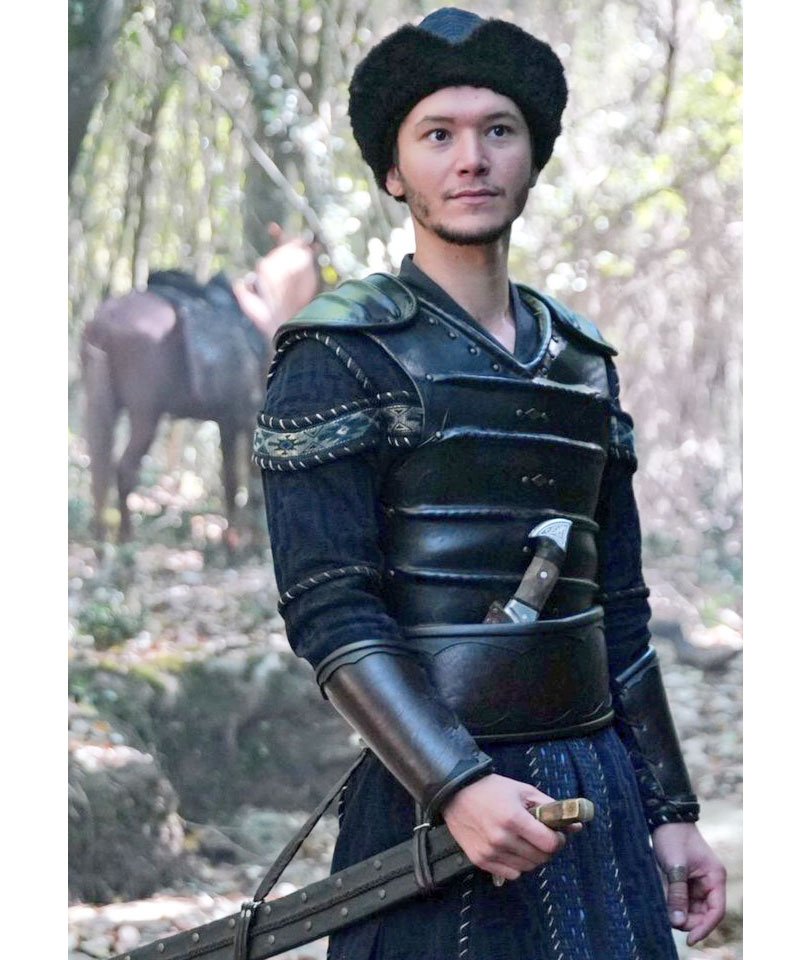 In Season 5 of Story of Ertugrul Ghazi, the role of Gundup Alp was played by Arif Diren. He was looking perfect in his role as a warrior. His costume was giving a glimpse of fierce Turkish fighter.
And you can also get a painstaking replica of the wardrobe worn by Arif Diren during the fight. This Arif Diren Vest includes a multilayer vest, a salvager, body armor that attaches with Hook and Loop fastener, faux suede armbands, a Turkish leather hat, to complete the look and let the crowd go wild with the entertainment you provide! We'd recommend just looking good in this armor instead of fighting.